On October 21st, a special homepage for the "Burn it Black e.p." set to release on December 23rd was unveiled on the SUPER★DRAGON official website. The special homepage made available to the public for the first time the cover art of the upcoming release as well as the tracklist.
Two previously unreleased songs are included on the mini album, titled "BLACK BOX" and "Distance." The other tracks are songs that SUPER★DRAGON have released steadily throughout 2020. On the special homepage, the attached notice illustrates how the members hope that this accumulative work will showcase the diversity of their performance capabilities. Both "SAMURAI" and "Burning in the nights" are credited to producers well-known in Japan for their contributions to both the Japanese and global music scene.
The album will be released in two versions. The Limited Box edition will include both a CD and a Blu-ray disc. The Limited Box CD will include a special bonus track, "BROTHERHOOD (2020 Version)." The Limited Box Blu-ray disc contains special "Live Music Videos" of selected songs that were performed on the summer online live SECRET BASE. In addition, the Limited Box edition will include a 60-page "zine" style booklet produced by the members themselves.
The second edition of the album is the regular edition, which does not include the Blu-ray disc, the bonus track, or special booklet. However, this version will include a random photocard with each copy. Pre-orders of the regular edition from certain online retailers will also be subject to special benefit. Details of these benefits will be available closer to the time of release.
Please check out the details below, and thank you for supporting SUPER★DRAGON!
ALBUM INFORMATION: BURN IT BLACK E.P. LIMITED BOX
Release Date: 2020.12.23
Includes: CD / Blu-ray / Booklet (60P)
CD
01. BLACK BOX
02. SUPER★DRAGON
03. SAMURAI
04. Distance
05. Burning in the nights
06. BROTHERHOOD (2020 ver.)
Blu-ray: SECRET BASE Live Music Video
01. Strike Up The Band
02. hide-and-seek
03. ゲットレジャーニー
04. BLODDY LOVE
05. My Playlist
06. Set It Off
07. Remedy For Love
08. SAMURAI
09. SUPER★DRAGON
10. BADASS
11. The Survivor
12. BROTHERHOOD
ALBUM INFORMATION: BURN IT BLACK E.P. (REGULAR EDITION)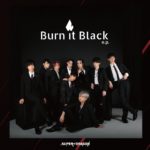 Release Date: 2020.12.23
Includes: CD / Booklet (16P) / Photocard (Random 1 of Possible 10)
CD
01. BLACK BOX
02. SUPER★DRAGON
03. SAMURAI
04. Distance
05. Burning in the nights
OFFICIAL Announcements
SHARE This Event ON SOCIAL MEDIA
[addthis tool="addthis_inline_share_toolbox"]
Upcoming Events
[MEC id="1530″]